Infrapower and ActivoMed from Broholm.Biz improve the performance of our horses


Pictured: the Infrapower Poll Cap from Broholm.biz.

With a history of great collaboration, it was very easy for Helgstrand to welcome Broholm.biz as an official partner at the beginning of this year. Focusing on high-quality and innovative products for the equestrian industry. Broholm.biz has a great offering of products to support the health and welfare of horses.

Helgstrand Dressage CEO Andreas Helgstrand is excited about the partnership.: "At Helgstrand Dressage we train our horses for optimal performance, optimizing their performance, and securing the welfare of the horses with the products from Broholm.Biz is a fantastic addition in keeping them happy and healthy."

The Infrapower products from Broholm.biz are of great use in the daily work with the horses at Helgstrand, securing and maintaining their wellbeing to maximise performance; especially the Infrapower Poll Cap is of great use in our daily work. Furthermore, the ActivoMed treatment blankets are a fantastic addition to the work around the horses, especially around competitions and shows around the world.

CEO of Broholm.biz Trine Schonning states: "The well-being and performance improvement of horses is our passion. We're proud and happy that a successful stable like Helgstrand trusts in us. Infrapower and ActivoMed products are very effective, easy to use, and of the best quality."

"We are very excited to bring Broholm.biz onboard as a partner for Helgstrand, securing their presence in the equestrian industry and supporting their growth of infrared products all over the world. The quality of their products speaks for itself, and we look enjoy using it at our daily work around the horses" states Thomas Sightenbjergaard.

You can meet both Helgstrand and Broholm.biz at the upcoming World Championships in Herning from the 6th – the 14th of August. Find us at the exhibition area; Broholm.biz stand 1036 and Helgstrand at stand 1205.
---
Jeanna Högberg: I'm going to miss Helgstrand


Pictured: Jeanna Högberg and Downtown from winning the World Championship for 5-year-olds in 2021.

Swedish Jeanna Högberg has just secured another World Championship qualifier onboard the now 6-year-old Downtown, on which she became World Champion last year. But unfortunately, it will be her last championship as part of the Helgstrand team. After 2 fantastic years, she has made the difficult decision to go back to Sweden for family reasons.

- It has not been an easy decision as I love working here. It has been two amazing years and I'm beyond thankful that I got the opportunity to work together with passionate horse people like myself and to train some of the best dressage horses in the world. My husband and I agreed to move here so I could live my dream while the kids were young - and I am very grateful to him. The plan was always to move back to Sweden when the children started school, but unfortunately, my father became seriously ill recently, so that has pushed the process forward as I want to be close to him. But looking back, I have got a lot of great memories and my time here has given me so much. Not just professionally - I've also got to know a lot of wonderful new people whom I'm going to miss. It will be sad when I enter the arena for the last time as part of the team at the World Championships in Ermelo, but last year's win with Downtown is one of the greatest moments for me, and it means a lot to me that I will have that experience too, says Jeanna.

- With great pride, we welcomed Jeanna to the team in 2020. She had made a name for herself, both on the national and international scene, training several horses up to Grand Prix level. It has been a pleasure to work with Jeanna, because not only has she represented Helgstrand in the best possible way with her many impressive results, but she also has an amazing personality, a great sense of humour and has given so much to the team. We of course understand and respect her decision, but we are extremely sad that she is leaving. However, we will continue our collaboration which makes us very happy, says Andreas.

During her time at Helgstrand, Jeanna has trained many successful horses. Among others, our World Champion for young dressage horses, Downtown as well as Freetown, Devonport, and her own horse Astoria, which she has qualified for the World Championship in Herning representing her home country this August. In addition, she has earned lots of success with Lorenzo. Many great memories, which all remind us of what amazing results she has achieved in the past two years.

Jeanna and her family are moving back to their farm outside Enköping in Sweden and she is looking forward to continuing to train quality horses together with Gabriella Grewin Bramberg at Herfsta Dressage. We wish Jeanna and her family all the best and thank you for everything you have done for Helgstrand.
---
Downtown and Flottenheimer to represent Denmark at the WCYH


Pictured: Downtown and Jeanna Högberg - selected for the 2022 WCYH.

As the prestigious World Young Horse Championships are fast approaching, the selection trials take place to find the horses that will represent the different countries. In 30 degrees sunshine, the second and final selection was concluded in Danish Warmblood at Vilhelmsborg near Aarhus today. All of the horses from Helgstrand showed themselves very well despite the hot weather. Only four horses for each age group are allowed, and we are proud to announce, that both Slangerupgaard's Flottenheimer by Franklin/Scolari (5 years old) and last year's World Champion of the 5-year-olds, Downtown by Hesselhøj Donkey Boy/Zack got a ticket to the championship, where the world's best young horses are going to compete for the prestigious titles in the age group 5- to 7-years-olds.

Both Franklin and Hesselhøj Donkey Boy are part of Helgstrand's much-coveted stallion collection, and both have been appointed elite stallions due to their own and their offspring's achievements. And Downtown and Flottenheimer are both examples of the high quality, that the offspring represent. Moreover, Figaro-D was named reserve among the 6-year-olds. He is also by Franklin with Laurino as damsire. Figaro-D was presented by Maria Vasconcelos, while Downtown was ridden by Jeanna Högberg and Flottenheimer was presented by Eric Guardia Martinez.




Pictured: Slangerupgaard's Flottenheimer and Eric Martinez - selected for the 2022 WCYH.




Pictured: Figaro-D and Maria Vasconcelos - reserve of the 6-year-olds.
---
Vivaldon/Fürstenball offspring price highlight at Helgstrand-Schockemöhle online foal auction


Pictured: HP Vin Santo by Vivaldon/Fürstenball, bred by HP Horses and price highlight at Helgstrand-Schockemöhle's first online foal auction, sold for 32,000 euros.

Tonight, 21 hand-picked dressage and show jumping foals were up for auction at Helgstrand-Schockemöhle's first online foal auction. The foals had been selected in Denmark, Germany and The Netherlands and presented an exciting collection of top foals deriving from strong performance lines. The highlight of the evening was the expressive and very well-moving colt out of Vivaldon's first crop of foals. The sire is the much-coveted Fürstenball. HP Vin Santo is bred by Lone Bøgh Henriksen from HP Horses and was sold for 32,000 euros.




Pictured: Hope by Sir Donnerhall I/Franklin, bred by Maj Hygum and sold for 20.000 euros at Helgstrand-Schockemöhle's first online foal auction.

The second most expensive dressage foal was another Danish-bred foal; the feminine Sir Donnerhall I filly named Hope (bred by Maj Hygum), who offers an exciting pedigree with Franklin as dam sire. Sir Donnerhall I - a true legend - combined with one of Helgstrand's most popular breeding stallions, Franklin, who is on his way to entering the big arenas after being appointed Danish Warmblood elite stallion. Hope was sold for 20,000 euros.

Find the results of the auction here
---
Ole Hummelshøj and Laila Wittendorff: fantastic first week at Helgstrand Academy


Pictured: Laila Wittendorff and Ole Hummelshøj

Although the start date was set for July 15th, Laila and Ole already had their first day at Helgstrand Academy last week eager to getting started.

- A new chapter has started, and although it's a bit special feeling packing everything up and moving to a new place, we already feel that it's the right decision. We had a very warm welcome and we're looking forward to starting a new chapter here, says Ole.

Of course, the first time will be spent getting to know the place and the new colleagues, but even though they have only been working at HA for a few days, they have already started new initiatives. Maria Anita Andersen did a fantastic job, but because she wanted to dedicate more of her time riding and teaching, Ole will fill in the manager position. His primary task is to make sure that everything works and that everyone thrives. One of the things Ole values most is teaching, which is why he already started giving lessons to the riders:

- No matter how good a rider you are, training is necessary. The riders are eager to learn, and I know that this is a big motivation. Maria and I already have a good plan, and for me, it's obviously a great opportunity to get to know both the riders and the horses. My job is also to match horses with riders, and here I get a good insight, states Ole.

While Ole has the overall responsibility at HA, Laila has been put in charge of our grooms. Not just recruiting new ones for all our locations, but also making sure they are all doing well. For many it is their first time away from home, so she will obviously be a great help if needed. Laila has already suggested many new initiatives and we look forward to implementing them.

Moreover, both Laila and Ole will be part of the new Master Rider Education and we are looking very much forward to welcoming the first students already on September 1st.

Maria Anita Andersen will continue to be responsible for our master student riders, as well as teaching and dedicating more of her time to training horses and attending competitions.
---
Tightening of business practices in Helgstrand Dressage
Helgstrand Dressage has been involved in several hundred successful deals with high-quality horses and remains part of several long-term and professional partnerships with satisfied co-owners.

It is both regrettable and untenable when mistakes have been made in specific cases, or when misunderstandings or disagreements have occurred concerning the contractual basis, prices, costs and guarantee to buyers in connection with resale.

We have therefore decided to tighten several processes and our business practices to professionalize operations and ensure that Helgstrand Dressage lives up to its position as market leader. We will set new standards for transparency in Helgstrand Dressage and hope that the industry will follow our example and introduce the same new and improved standards.

Background

Based on both unsubstantiated and specific allegations and accusations made as part of the critical and one-sided press coverage in Danish regional media outlet NORDJYSKE in May-June 2022, the Board of Directors of Global Equestrian Group Holding on 31 May engaged one of Denmark's largest law firms to conduct a thorough legal investigation of the company's business practices.

The investigation has taken been carried out over the course of 3 weeks and is based on extensive material, which includes:
Audit reports of the financial years 2018/2019 – 2020/2021
Detailed inventory lists of fully and co-owned horses stabled with Helgstrand Dressage
All co-ownership agreements
Invoices from co-owners to Helgstrand Dressage
Contracts for the sale of horses from Helgstrand Dressage
Information concerning payment of commission
Information concerning guarantees offered to buyers
The investigation concludes that incomplete documentation and lack of written information on co-ownership of and trading with horses in several cases pose a risk of conflicts of interest and disagreement between partners and Helgstrand Dressage.


Actions

Based on the legal investigation and a closer examination of several individual cases – which are treated confidentially a matter of principle – Helgstrand Dressage's day-to-day management immediately initiates a tightening of the company's procedures.

The measures include, among other things:
Preparation of a detailed and transparent co-ownership agreement by an external lawyer with deep insight into the industry
Presentation of the new and improved co-ownership agreement to all current partners
Full transparency for co-owners regarding all costs and calculation of guarantee amount before settlement of horse sales
Introduction of improved written purchase agreements that fully regulate and describe the terms of all purchases of horses
Reviewing and updating sales contracts as needed and emphasizing the requirement of documenting agreements in writing and ensuring that all contracts are signed before executing deals
Strengthening the ongoing efforts to clarify the overview of costs per horse through the roll-out of a new ERP system that was implemented in January 2022 and is being commissioned
Implementing an internal procedure ensuring that Global Equestrian Group Holding's Board of Directors is informed upon receipt of any allegations of dishonest business practices in Helgstrand Dressage


Timeline and other conditions

The measures are expected to be implemented as soon as possible and communicated directly to all partners and employees of Helgstrand Dressage, and they will be reviewed by day-to-day management in personal conversations with all employees directly involved in the trade of horses.

The above initiatives complement the ongoing efforts to professionalize operations in Helgstrand Dressage, which also includes the employment of a HR Manager in 2022 and a sharpened focus on continuously improving working conditions.

Andreas Helgstrand
CEO
---
Alexander wins the freestyle at Future Champions on Belantis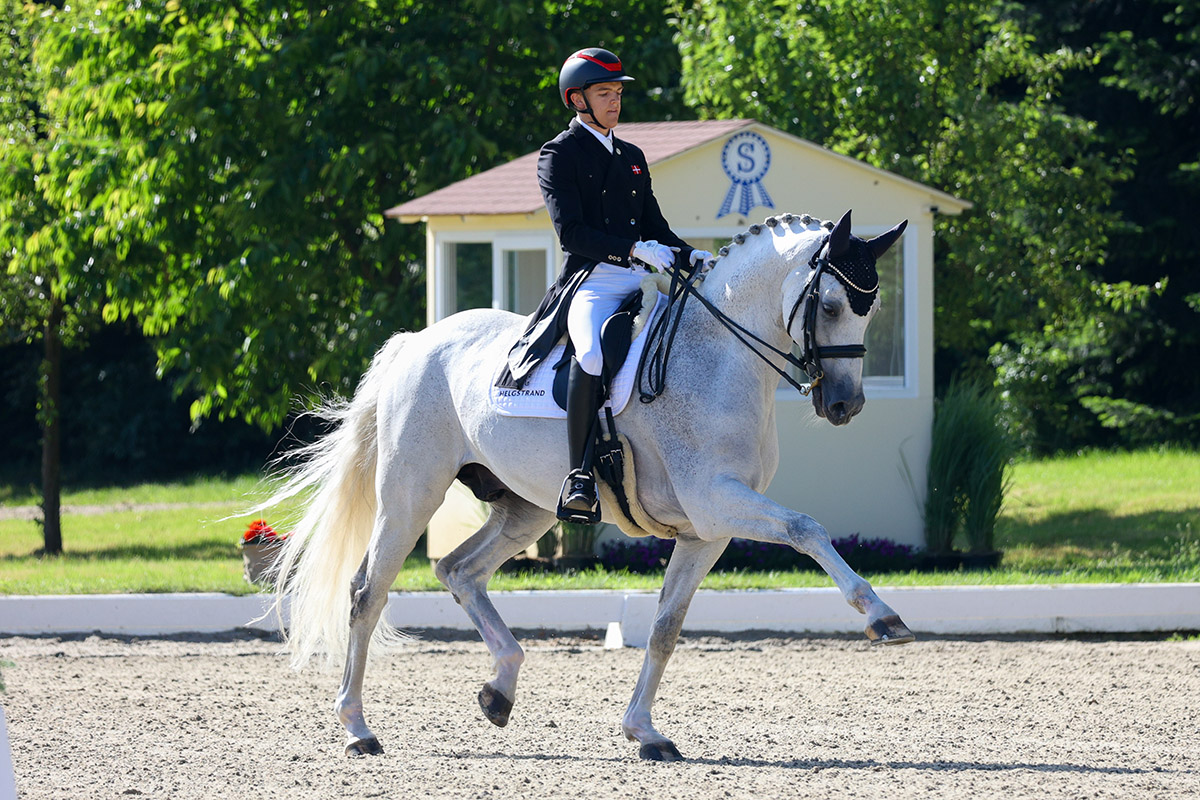 Pictured: Alexander Helgstrand and Belantis at the 2022 Future Champions.

Future Champions in Hagen, Germany is a recurring event that attracts young talented riders from all over the world. Again this year Alexander Helgstrand participated and this time he brought his new partner, Belantis by Benetton Dream/Expo'se - former ridden by Isabell Werth, but we also had the pleasure of watching several former Helgstrand horses again, all of whom performed phenomenally with their new riders.
New partnerships develop over time, and Alexander and Belantis' recent performances truly show that they are on the right path. In the first two youngrider classes, they placed second scoring 72.696% and 73.137% respectively, while in the freestyle took the lead with a whopping 79.65%. Two out of the three judges even rated their freestyle at 80+%.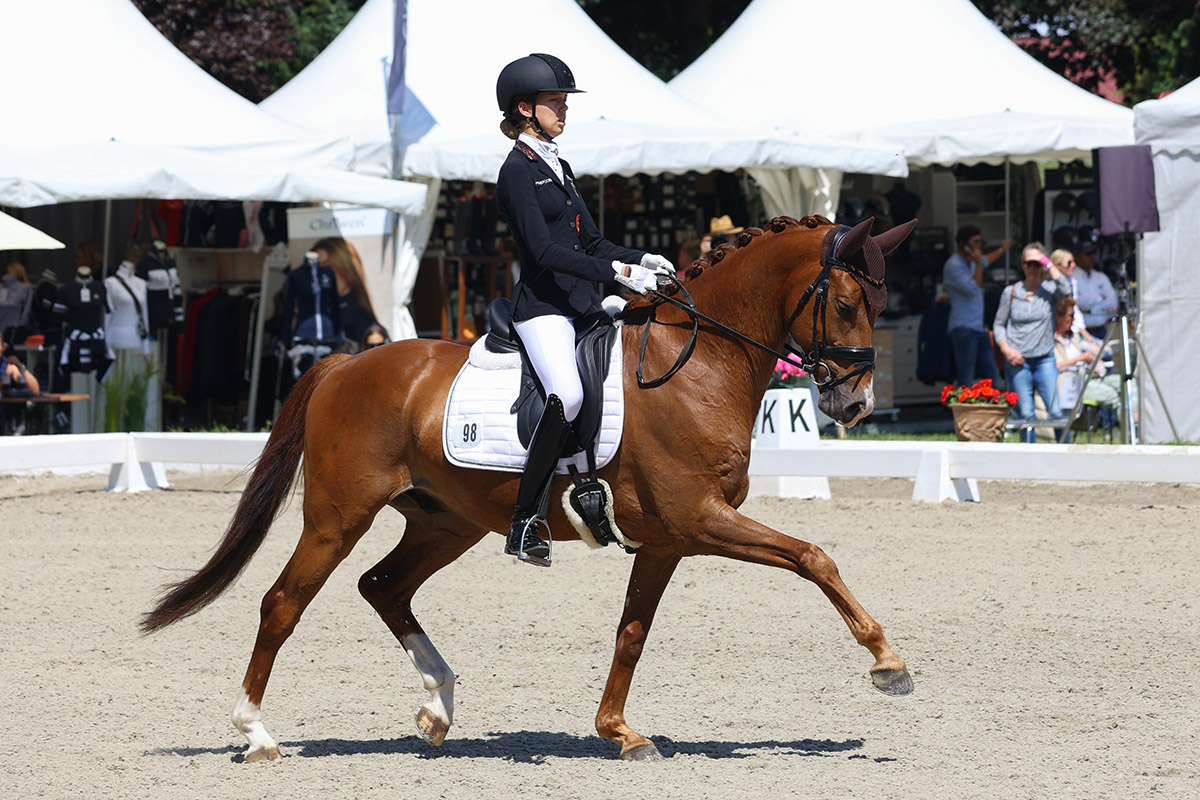 Pictured: Martha Raupach and Jack Sparrow at the 2022 Future Champions.
Successful horses at Future Champions
Every year, horses are leaving Helgstrand to match with new upcoming talents - and we love to follow them on their journey as their new partnerships grow. Once again, we had the pleasure of watching strong performances, which makes us very proud.
German Martha Raupach brought both Jack Sparrow by Expression/Vivaldi and Francis Drake OLD by Franklin/Don Schufro. On both horses she had some good rides and especially Jack Sparrow managed to put himself in the top league winning all his classes with results above 80%.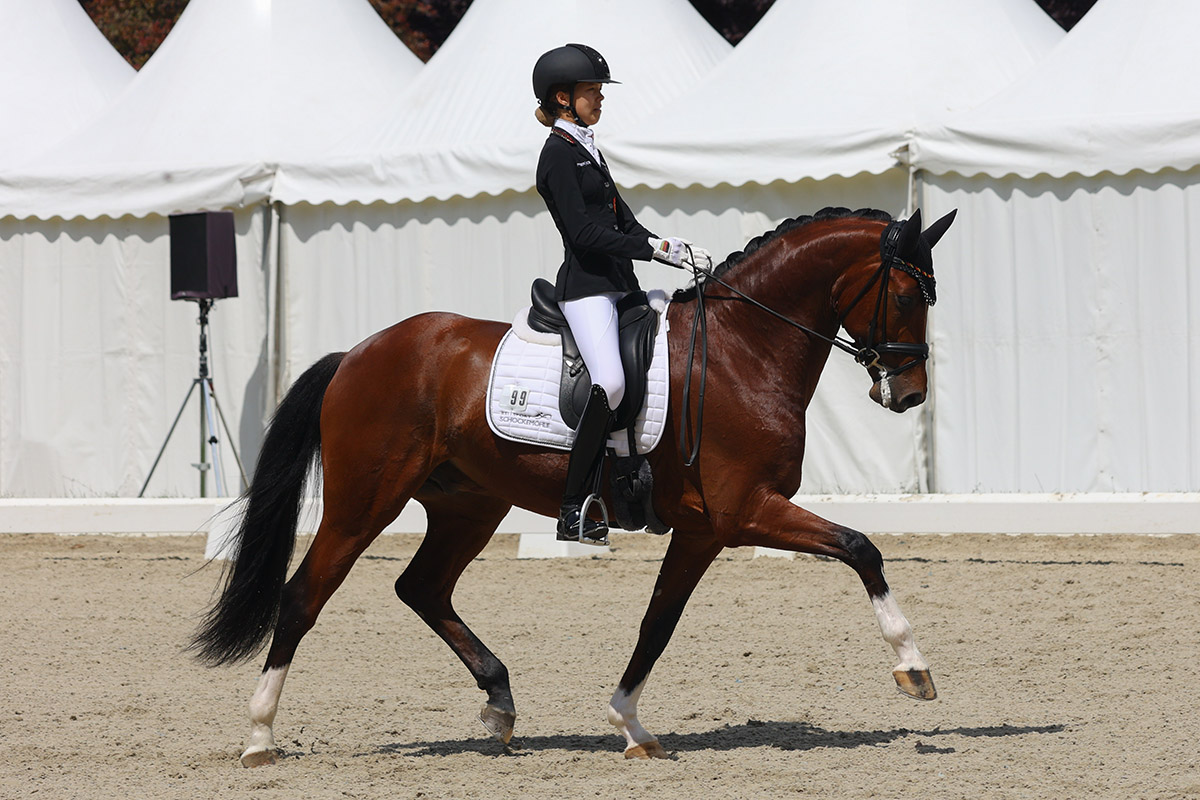 Pictured: Martha Raupach and Francis Drake OLD at the 2022 Future Champions.

On the impressive Franklin son, Francis Drake, she managed to place at the top of the junior classes. Francis Drake was former ridden by our German rider, Leonie Richter - among many unmentioned highlights, they placed 8th at the prestigious World Championship for 5-year-olds in Verden last year.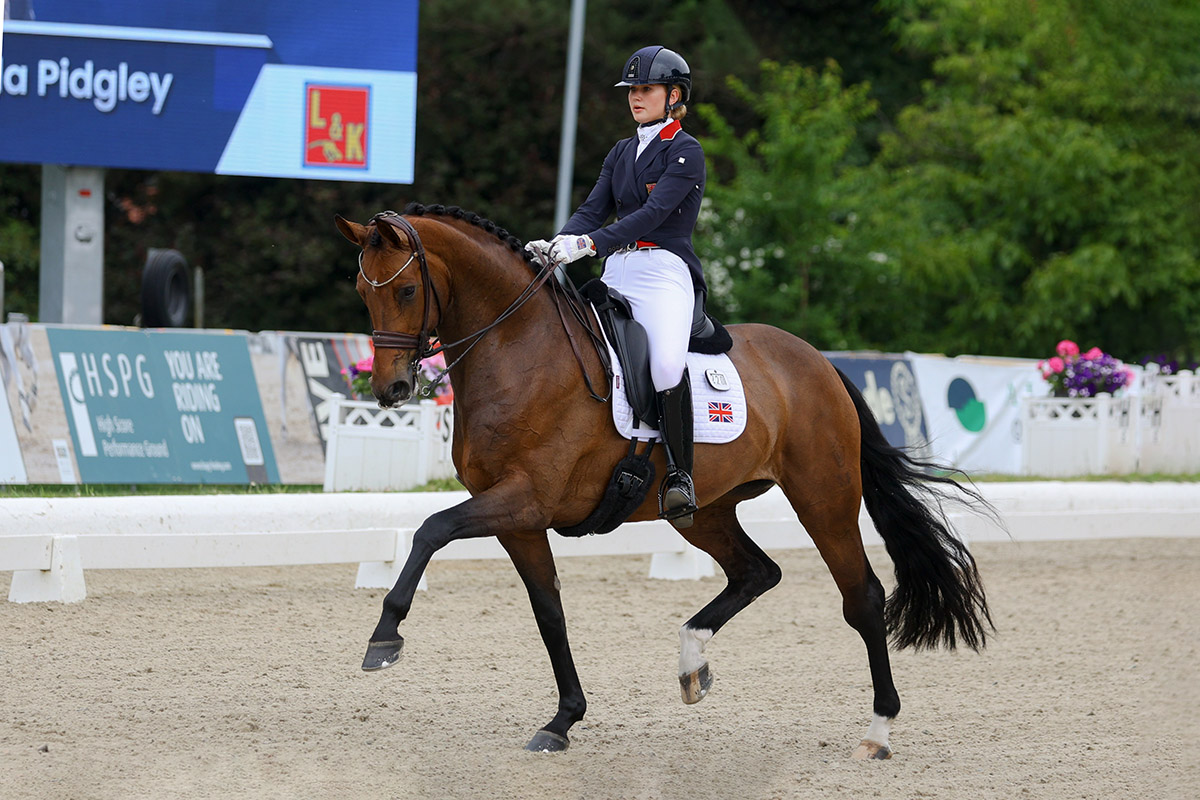 Pictured: Annabella Pidgley and Espe at the 2022 Future Champions.

We also had the pleasure of watching the British junior rider, Annabella Pidgley, who reaped great success with both her horses from Helgstrand. Despite her young age, she already has an impressive CV and this week she was able to add further top results. On the 8-year-old Espe by Escolar/Dimaggio she rode a total of three wins out of three, each time with a score of above 75%. In addition, she brought the 8-year-old Sultan des Paluds FRH by Soliman de Hus/De Niro, which she also rode to top placings throughout the show. Annabella is currently trained by Cathrine Laudrup-Dufour, who is part of the Helgstrand team.




Pictured: Annabella Pidgley and Sultan des Paluds FRH at the 2022 Future Champions.

We also had the opportunity to watch Danish Thilde Rude Hare performing on Fred the Red by Franziskus/Florestan. They ended up as runner-up in the Junior Freestyle Small Final.




Pictured: Hubertus Stallmeister and Adriano B. at the 2022 Future Champions.


Not only the horses did well, we also had the pleasure of seeing Adrino B by De Angelo/Flying Dream, ridden by his new rider, the only 13-year-old Hubertus Stallmeister. Adriano B., who Alexander Helgstrand rode to several medals in his pony years, achieved top placings every day with Hubertus in the saddle.
Congratulations to you all!

Pictures by ll-foto.de
---
Andreas and Jovian win 4th Grand Prix in a row


Pictured: Andreas Helgstrand and Jovian from the lap of honour after winning the CDI3* Grand Prix at the 2022 Aachen Dressage Days in Hagen, Germany.

Recently, Andreas debuted our double World Champion for young dressage horses, Jovian by Apache/Tango in the Grand Prix, and now Andreas can add additional two Grand Prix victories at the Aachen Dressage Days in Hagen, Germany.

The impressive Apache son attracts everyone's attention the moment he steps into the arena. By nature, he is equipped with three sublime gaits where he shows tremendous power, suppleness, self-carriage, and balance. Not to mention his amazing temperament and rideability.

Yesterday in the Grand Prix, they were awarded a massive 76.348% for the win, followed by another victory in the Special earning 76.319%. Because of the amazing performances in Hagen, they received an invitation to the prestigious CHIO Aachen, which takes place from June 24th to July 3rd. In the Grand Prix, Andreas also took home a second-place on Danish Warmblood gold medal mare Queenpark's Wendy (Sezuan/Soprano), finishing just after Jovian with 74,370%.

Fingers crossed for another successful show in Aachen and a ticket to the upcoming World Championships in Herning on 6-14 August.


Springbank II VH and Yara Reichert win Intermediare I
In Hagen, we also had the pleasure of watching the former Helgstrand horse Springbank II VH by Skoven's Rafael/De Niro, who has had a great start under his new rider, German Yara Reichert. Together, they earned lots of success at the 2022 Aachen Dressage Days winning the Intermediare I with 72.7%.





Pictured: Andreas Helgstrand and Queenpark's Wendy, who placed second after Jovian at the 2022 Aachen Dressage Days in Hagen.
---
Master Student Rider Camilla Lærke Stubberup to represent Denmark


Pictured: Camilla and Zun Dance from the Danish National Championships this weekend.

The Danish Equestrian Federation has announced the list of selected combinations to participate at the Nordic Championships as well as long-listed the candidates for the European Championships and World Championships. From Helgstrand we are proud to announce, that two of our riders have been selected for these big events.

Our Master Student rider, Camilla Lærke Stubberup and her horse Zun Dance have been selected to represent Denmark at the Nordic Championship for U25, which takes place in Flyinge, Sweden on 26-30 June as well as for the long list of the European Championships in Hungary on 24-28 August.

- I'm so happy, everything has gone so fast this past year and I just feel so grateful to have a horse like Zunny. I am so lucky to get so much support from the people around me and especially from Maria (red. manager at Helgstrand Academy). It's because of her that we have achieved so much. I'm really looking forward to representing Denmark and gaining even more experience. Being selected for this with Zunny is something special because I have trained him myself. Next week, I have my final exam and of course, he will be with me. After that I'm looking very much forward to the competitions this summer, says Camilla.



Andreas and Jovian in the running for a team selection for the World Championships


Pictured: Andreas on Jovian from the 2021 World Championships in Verden.

- I'm really happy to be on the long list with Jovian. It's of course very special as he is only 8 years old. But everything just seems so easy to him, and he has so much potential. For the time coming, I will compete in Hagen and later in Aachen – and then I just hope for a spot on the team. And of course, I will be proud to represent Denmark once again, says Andreas.

The 2022 World Championships take place in Herning from 6-14 August.


---
Patrik Kittel joins Global Equestrian Group

Pictured: Patrik Kittel and Andreas Helgstrand.

Swedish Patrik Kittel is one of the world's most successful dressage riders and has certainly made his mark on the international dressage scene. In his career, he has trained more than 60 horses for Grand Prix, won more than most, and is now ready to take the next step in his career as a part of Global Equestrian Group.

- For many years we have been working together with Patrik and we wanted to include him in the team. Germany is one of our biggest markets and together with Patrik we can now exclusively offer some of our sales horses from Patrik's facilities at Eulenhof in Dülmen, Westphalia. In addition, Patrik will continue to be active in the sport which give us the unique opportunity to offer our clients help at shows to achieve even greater success. And he is just one of the best riders in the world, which is great branding for us, states Andreas Helgstrand.

- It has been an exciting journey and I've enjoyed the freedom of being self-employed. But I miss being part of something bigger, and I'm more than ready to start a new chapter as part of Global Equestrian Group with all the benefits that come with it. I am sure that I can contribute new ideas and offer an exclusive service from my home in Dülmen, where I will continue to stay with my family. And I'm delighted that I can carry on my riding career and compete actively both my own and Helgstrand's horses, says Patrik Kittel.

Patrik Kittel has competed at the European Championships, World Championships, World Cup Finals, Olympic Games as many as three times in addition to achieving numerous victories and placings at national as well as international competitions on horses such as Touchdown, Well Done de La Roche, Scandic, Delaunay, not to mention the three-time World Champion, Fiontini, whom Patrik rode to a victory in his Grand Prix debut after a short period of partnership.

- Patrik is one of the most successful riders and we look forward to strengthening the group with his skills and experience. He brings good business know-how and can add knowledge and ideas that can give another boost to Global Equestrian Group's activities - and he just has a great personality, Andreas adds.

Patrik has bought into Global Equestrian Group, which is jointly owned by Ludger Beerbaum, Waterland Private Equity, the owners of Wellington International (former Palm Beach International Equestrian Center), and Andreas Helgstrand.

In the video below, Patrik Kittel tells more about the new collaboration:
---
Scroll